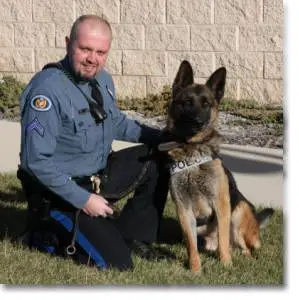 Officer Brian and Hans
Talburt Animal Health Center in West Plains, Missouri provides wellness and preventive care for the West Plains Police Department Canine Officer at no cost to the city. The care that is provided free of charge includes an annual physical examination, heartworm &tick disease testing, intestinal parasite screening, appropriate vaccinations and heartworm, flea and tick preventatives.
Our local canine officer, Hans, and his handler, Brian, as well as all our local law enforcement entities provide an invaluable service to our community. The doctors and staff of Talburt Animal Health Center sincerely thank them for their efforts to keep dangerous drugs out of our community and out of the hands of our most precious resources, our children.
Hans has served our community well for many years now and is nearing retirement. Funds are needed in order to secure and train a new canine officer. Anyone who wishes to donate to this cause can do so by contacting the West Plains Police Department at 417-256-2244.