Steve W. Talburt, DVM
Dr. Talburt was raised in North Central Arkansas. He
grew up on a dairy farm and attended school at Viola, Arkansas. He graduated magna cum laude from Arkansas State University in Jonesboro in 1984 with a Bachelor of Science Degree in Animal Science. He continued his education at Louisiana State University School of Veterinary Medicine in Baton Rouge and earned his Doctorate of Veterinary Medicine in 1988. After graduating from veterinary school, Dr. Talburt and his family relocated to West Plains where he has practiced veterinary medicine twenty-three years and is the owner of Talburt Animal Health Center. Dr. Talburt loves to spend time with his family and pets. He and his wife, Tina, have recently discovered the joy of being grandparents. Dr. Talburt also enjoys farm work, carpentry, fishing, and hiking and jeeping in the mountains of Southwest Colorado.
---
Wesley D. Gunter, DVM
Dr. Gunter is a West Plains native. He grew up around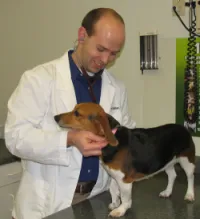 animals on his family's dairy farm west of town and attended the West Plains Schools. Dr. Gunter received a Bachelor of Science Degree in Biology in 1998 from Oklahoma Christian University in Oklahoma City. After college, he worked as a research associate at the University of Oklahoma Health Sciences Center and the Oklahoma Foundation for Digestive Research. He then went on to the University of Missouri College of Veterinary Medicine in Columbia where he earned a Doctorate of Veterinary Medicine in 2003. He and his wife, Alicia, returned to West Plains to live and work. They have two children, Jayna and Kyler. In his spare time, Dr. Gunter enjoys spending time with his family and pets and is an avid distance runner. He also likes working outside around his home and property and traveling with his family.